The VF-1J Nausicaa Valkyrie is a robot from Super Dimension Fortress Macross and is a mech featured in The Knights of the Multiverse, introduced in Season 1. It is a variant of the Valkyrie Fighter piloted by Noriko Takaya. In season 2, it was upgraded to the Strike Nausicaa.
Season 1
Edit
Season 2
Edit
Armaments
Edit
The Nausicaa has a pair of photon laser cannon turrets (one gun on each side) attached to the side of its head, inspired by the Vulcan guns mounted to the Zeta Gundam's head.
The Nausicaa is armed with a gattling gun pod that's able to fire 1200 rounds per minute,
The Nausicaa is able to be armed with 2 large missiles on the outer part of each wing
The Nausicaa is able to arm itself with four micro-missile pods onto its wings, each carrying 15 micro-missiles.
A super move of sorts, the Nausicaa is able to spin its hand unit very fast, dealing a considerable amount of damage. However, the first few times this move was used, it overpowered the arm and tore it apart.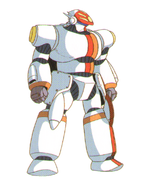 This version of the Valkyrie (piloted famously by Rick Hunter/Hikaru Ichijyo) was picked for Noriko due to its similarly to her original RX-7 Nausicaa from the Gunbuster anime.
The Drill Punch is inspired by a similar attack used by the VF-19 and VF-21 from Macross Plus.
Community content is available under
CC-BY-SA
unless otherwise noted.