Jasper is a character from Steven Universe and a main character introduced in the first season of
The Knights of the Multiverse
. She serves as the general of
Pink Diamond's
Amethyst and Jasper guard
on Earth.
Personality
Edit
Compared to her original counterpart, Jasper is much tamer. While still a fierce, competitive fighter, she displays traits more similar to that of a tough-guy, older sibling, even down to locking her fellow knights into a headlock and giving them a noogie.
Season 1
Edit
When Pink Diamond set up her base on Earth, she also immediately began the creation of a kindergarten to create her army of Quartz soldiers.
Season 2
Edit
Season 3
Edit
Abilities
Edit
Helmet: Like most gems, Jasper is able to summon a weapon. In her case, she's able to summon an orange helmet with a visor which helps her to headbutt or smash into opponents.
Speed Dash: Jasper is able to charge up into a ball and rocket forward, ramming into her opponent.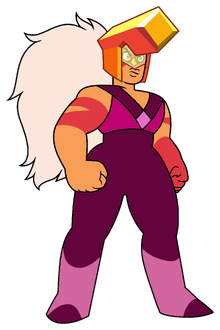 Relationships
Edit
Jasper and Pearl share a "friendly" rivalry.
Similar to Pink's relationship with him, Ryoma acts as a mentor to Jasper, teaching her about leadership and strength.
Unlike her original counterpart, her outfit has pink highlights similar to the rest of the Famethysts.